Montignac, the city of Lascaux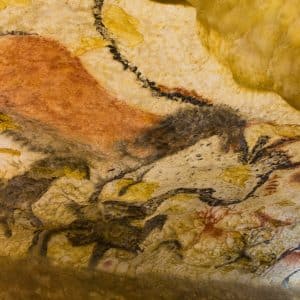 Lascaux, the most beautiful decorated cave at only 15 minutes.
Crossed by the Vézère river, discover its picturesque lanes and its monuments made of Périgord stones.
It is a city with a rich history that goes back a long way. The first remains were found -70,000 years ago at theRegourdou deposit. The Lascaux paintings have been dated to 17,000 years ago. Gallo-Roman remains have also been found.
Why 4 Lascaux:
Lasaux I: Baptized the sixtine chapel of the prehistory. This is the original cave discovered in 1940.
Lascaux II: The 1st facsimile realized after the closure in 1963 of the original. The visit is done by torchlight, for a more authentic and thorough guided tour.
Lascaux III: International travelling exhibition.
Lascaux IV: Complete replica. It is a guided, free and interactive visit to better understand Lascaux, its paintings and engravings.